A traditional home just not doing it for you? The loft frenzy -- especially when those lofts were being converted from old factories and warehouses connected with homebuyers in part because they offered the opportunity to do things a little bit differently. Namely, without walls and, in some case, real ceilings. But these structures go well beyond converted lofts. "Warehouses, factories, barns, and churches are commonly repurposed into residences, but for the adventurous buyer with a budget for renovation, no structure is off limits as a potential home,"
said CNBC
. Indeed. If the idea of living in something that never had any intention of being an abode, of bending its will to become shelter while still keeping its unique characteristics, check out these cool homes. There's nothing new about factories that have been converted to lofts. But we love how this one still has the industrial structure in place.
BUZZBUZZHOME
Ever look around the bank while waiting in line to speak to the teller and think, "This would make an amazing home!"? Cathy Calhoun did. After the Spring City, Pennsylvania bank she once worked in closed, "She bought the vacant building in 1989 for $52,000 with plans to renovate it and live there,"
said HGTV
.
HGTV
"The once-grungy basement vault -- where she admits she once feared to go -- has been transformed into a luxurious sauna -- keeping the original vault door intact, of course."
HGTV
If you're looking for some height and don't mind climbing stairs and living in a narrow space, perhaps an old water tower, like this one in the Netherlands, is for you. "This 1931 water tower was converted in 2002 into a nine-level modern private home using steel, concrete and glass, including a three-story window,"
said CNBC
. Living in an old lighthouse offers a similar feel, with the added advantages of being right on the coast and offering one of the more spectacular ocean views around.
CNBC
"The Morgan Point Lighthouse has stood on Connecticut's Fishers Island Sound since 1868,"
said This Old House
. "An advertisement in a 1995
Wall Street Journal
led its current owner to the empty, neglected structure. Nearly $1 million was spent on its reconstruction, which included a new lantern and various nautical details designed by the architect - a former Coast Guard engineering officer."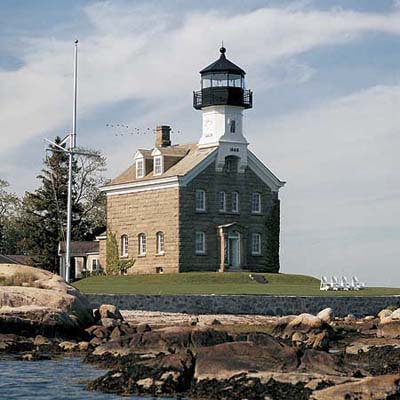 This Old House
Call it the original tiny home. This 1945 red caboose railroad car sitting on more than four acres on Mercer Island, Washington has been home to the Davidsons for 30 years, said CNBC.
CNBC
Looking for something with a little more space? How about a church. This collection of townhouses that "resemble a hip Tribeca loft" in Holland used to be a 19th century church, said
Fast Company
. "Gone are the pulpits and the altars and the endless pews and the little old Dutch ladies worrying their Rosaries. In their stead, you've got bleached white walls and aggressively cool contemporary art -- all arranged under a 46-foot-tall nave, the original 1911 stained glass windows throwing light just yonder."
Fast Company
A fire station, like this one built in the 1930s in East Providence, RI, may just be the ultimate space to turn into a home. Many already have large gathering areas, plus the fire pole makes for a great conversation piece.
Small House Swoon
Source: Realty Times, Jaymi Naciri 04032016